Recently, two clients of CMS Laser were seeking depaneling solutions that required a certain level of automation. The experts at CMS Laser successfully developed two types of laser PCB depaneling systems that included an in-line conveyor and semi-automatic manual load system. For each client, CMS was able to deliver a custom solution that successfully met both clients' requirements.
As are most of our laser systems, CMS Laser's depaneling solutions are designed with versatility and customization. A system can be integrated with a CO2 or UV laser head depending on application requirements and automation elements.
Both designs feature an integrated vision system, comply with the Center for Devices and Radiological Health (CDRH) requirements, and use the CMS programmable Process Engine software application.
The high-speed, low-stress process allows the laser depaneling system to singulate images from the panel during production. Read on for a complete system overview of these two laser depaneling designs and how CMS Laser developed and engineered two unique laser PCB depaneling solutions based on client needs.
CO2 Laser Application Process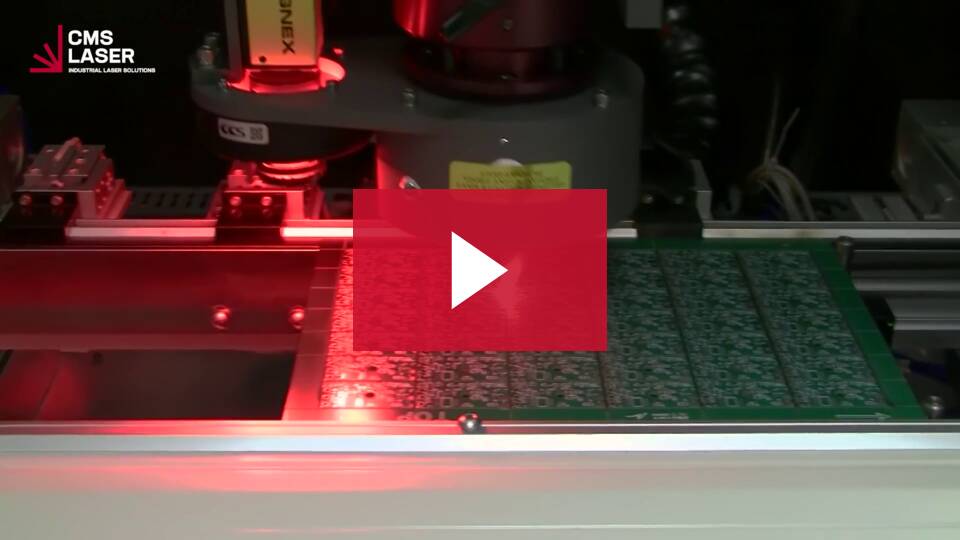 CMS Laser's experts in the Applications Development Lab work with many clients to determine what laser and optics configuration will perform best for their applications. In order to meet a recent client's depaneling application requirements, we had to first identify the right laser source for their PCB depaneling needs.
We selected a high-power CO2 laser and the in-line conveyor platform design that includes a SMEMA 1.2 interface for factory automation. A CO2 laser provided: fast cut speeds, lower cost per watt than UV, perforated or full cut options, and included efficient cutting of thicker substrates.
In order for the singulated parts to easily be separated from the conveyorized PCB panel, the application required a partial perforation process technique. While CO2 lasers can be used to create full cuts, they are more frequently used to make perforated cuts, which was the client's goal. The conveyorized PCB panels were brought into the process station and pneumatically clamped.
An integrated vision system was included on the CO2 laser cutting head and attached to a programmable XYZ motion control system. The vision system located panel fiducials to provide accurate and repeatable laser cutting paths. The optimized process surpassed the customer's cycle time requirements.
UV Laser Application Process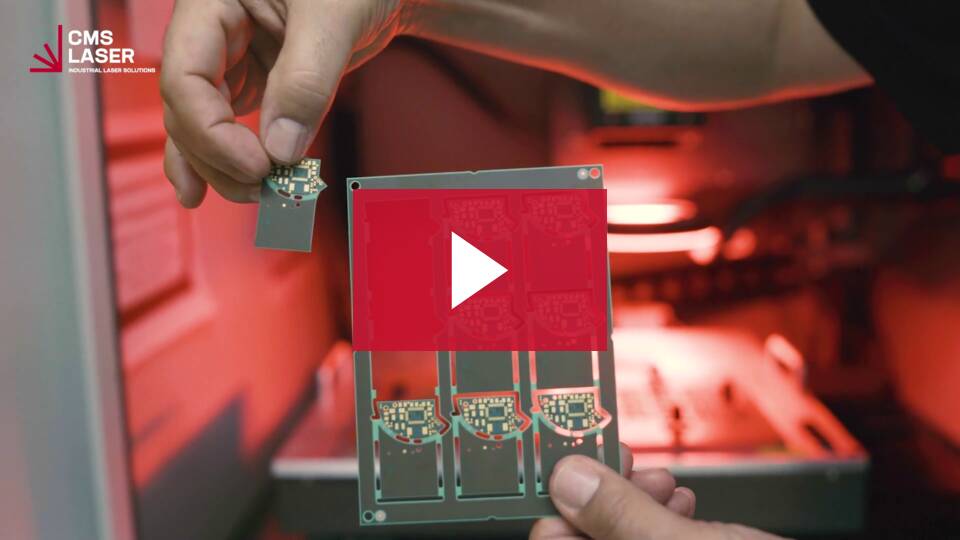 Another client of CMS Laser required a UV laser head with a semi-automatic platform that included a manual load vacuum fixture with an integrated vision system. As we discussed previously, UV lasers are preferable in applications where an extremely clean cut with minimal charring is necessary; a slower cut speed is the trade-off. We incorporated an XYZ  T-Gantry positioning system, a flexible interface, and easy access to the custom vacuum fixture.
Several part configurations were pre-programmed that allowed operators to quickly recall process procedures for quick small lot processing. Through the Optics Vision (TTOV) was used for repeatable part registration and accurate laser path alignment.
The application also required some parts to be part-marked with 2D codes and verified by the integrated vision system. In the future, the system can easily be moved to an in-line conveyor platform design for high-volume automated manufacturing.
Final Thoughts
CMS' system designs include a user-friendly programming interface and optional production line communication. Easy setup and short changeover times for a myriad process configurations help maintain a high level of productivity. High production throughput with excellent accuracy and repeatability ensures a high yield and excellent customer value.
We hope you've enjoyed this series on methods used for depaneling PCBs with laser systems. If you missed any, please check out the related posts:
In the coming weeks, we'll be taking an in-depth look at a technique that's become very prevalent with steel and other metals: laser oxidation marking.
Still have questions? Contact the team at CMS Laser, as we're more than happy to discuss and answer any question you may have about laser PCB depaneling systems.